Clippership is a powerful, Windows-based shipping software application that enables users to achieve new levels of shipping integration, ease, efficiency and flexibility. Clippership automates shipment processing for UPS, FedEx Express and Ground, USPS, Airborne Express, DHL, and BAX Global, LTLS as well as user-defined carriers.
Management Reporting
Clippership can help you turn
raw shipping data into incredibly useful management information.
Clippership produces carrier manifest reports, as well as a number of standard reports that can be used for analysis and charge back purposes.
A Clippership report writer is also available for creating custom reports. With Clippership's full range of reporting tools, you get the kind of information you need to properly monitor shipping activity, analyze costs, and identify future trends.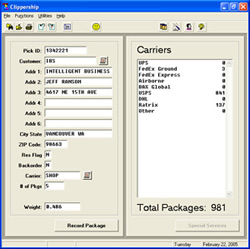 Peripheral Support
Clippership's open architecture allows it to easily integrate into virtually any processing environment. As a result, it interfaces with a variety of peripheral devices such as scales, printers, scanners, and meters to provide a complete and seamless shipping solution. Clippership's non-proprietary design makes it easy for you to select the exact hardware that fits your needs.
Scales -

Whether you are processing letters weighing a fraction of an ounce or skids carrying thousands of pounds, there is a scale designed for your needs that Clippership supports. From high resolution postal scales, to counting, bench, pallet, and truck scales, Clippership can interface with the type of scale that meets your exact processing needs.

Printers -

Clippership supports a broad range of industry-standard printers for printing labels, forms, and other key shipping documents. You can even use your existing Zebra, Datamax, Eltron or Pitney printers with the Clippership software. Just provide us with your current printer make and model in the needs analysis survey and we will verify its compatibility with Clippership.

Scanners -

Bar code scanning is an efficient way to minimize shipment processing time and reduce errors. Clippership can be configured to utilize keyboard wedge scanners, Wireless Bluetooth or integrated with fixed scanners for a complete unattended shipment processing environment.
Meters, Postal Manifesting, Endicia Integration - If your business uses postage meters to process mail, Clippership can interface with your meter to provide an integrated shipping and mailing solution. Clippership can be configured to set, trip, and record postage meter transactions. If you have 200 pieces or 50lbs of mail per day you qualify for postal manifesting. If you don't have enough mail for postal manifesting and want to avoid using a postal meter we can integrate Clippership to an Endicia account so you can utilize stealth postage.
Forms and Labels
Today more and more companies are being asked by carriers and customers alike to meet stringent and complex forms and labeling requirements. Clippership can help meet this challenge by electronically preparing a full range of carrier and EDI compliant barcode labels and forms. Clippership completely integrates the task of label printing with shipment processing, resulting in reduced labor costs and fewer errors.
Carrier Shopping
To get the best carrier rates and services, you need to shop around. And Clippership provides you with all the information you need to get the best shipping rate for every package you ship. Clippership can shop for a "best" carrier based on cost, as well as weight, zone, and zip code. In addition, Clippership offers an optional feature which allows you to add a level of intelligence to the entire carrier selection process. By performing "what if" analysis, Clippership can identify opportunities to precisely define your shipping requirements while reducing costs and improving service levels. For example, need to have a package shipped with guaranteed delivery to zip code 92605 by 3 p.m. on Wednesday? Clippership can pinpoint your options.
Manifesting/EDI
Clippership provides carrier manifesting for multiple carriers, including UPS, FedEx, RPS, Airborne, USPS, UCI Distribution Plus, Priority Delivery, LTL, express air freight, and others - all on one complete system. Clippership can also electronically transmit manifest information to various carriers via EDI (Electronic Data Interchange). EDI enables shippers to perform self-invoicing and eliminates the need to print airbills. EDI offers many benefits, including faster transfer of information and significant improvements in accuracy and productivity.
Multi-User Functionality
Clippership supports multiple users so you can achieve maximum productivity in your shipment processing. And Clippership allows you to set and maintain unique security profiles so you can limit user access.
Ease of Use
With Clippership's intuitive, graphical interface and easy-to-follow screens, you're just a mouse click away from faster and more accurate parcel processing. And for those application environments where a mouse or other pointing device is not practical, Clippership supports keyboard operation for most functions.
Contact us today to receive a free quote